Official AT Day Commemorative T-Shirts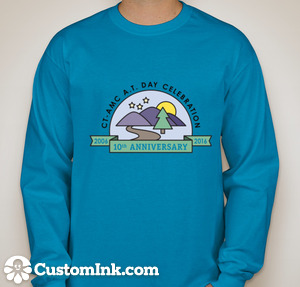 Many people have suggested that we commenorate AT Day with an official t-shirt. So members of the Executive Committee have worked to make this happen so you can order your very own Official AT Day Commemorative T-Shirt direct from CustomInk.
Start the process by clicking on the picture of the shirt you want:
AT Day Commemorative T-shirts can be customized to be multi-color in various shirt styles, fabrics, colors and sizes.
Prices will vary according to choices. There is no cost for shipping unless selecting a rush order. Select the "no minimum" options of styles if ordering a quantity from 1-5. You can select the design displayed at the links or change colors or style. Simply click "edit" or "your item" to get started.
The site includes a chat feature and toll-free number if you need assistance.