White Mtn National Forest Closing Due to Hurricane Irene
All public areas, trails and facilities in the WMNForest are closing at 6 PM on Saturday, August 27th and will remain closed through Monday, August 29th. More...
AMC Destinations in NH, NJ Closing Due to Hurricane Irene
AMC lodging facilities in NJ, NY, CT, MA and NH will be closing on Saturday, August 27th and will reopen on Monday, August 29th. Check with the local Chapter for volunteer managed facilities. More...
Recreational Liability Bill Becomes Law!
H.B 6557, an act giving improved recreational liability protection for municipalities passed and has been signed by Governor Malloy. Your help made this possible averting the possible closing of much of the recreational land in Connecticut. Way to go!
Trails are in danger
W. Hartford MDC Trails may be closed to recreation.
Read about the Liability Loophole that could threaten trails all over the state. Public hearing July 20th. Posted 8/25/10.
Changes in Store for AMC Outdoors and Member E-Communications
In an effort to reduce expenses and AMC's carbon footprint, AMC Outdoors will be published six times per year, beginning with the September, 2009, issue. The magazine will also begin running abbreviated activity listings beginning with the May issue. At the same time, AMC is stepping up its efforts in member electronic communications and social networking.
Full trip and event listings will continue to be available on the activity committee web pages here on our chapter website and at trips.outdoors.org, and well as through a new e-mail based activity alert available through the AMC Member Center at the end of January, 2009. Members can also sign up for electronic delivery of our chapter newsletter on the Member Center.
Trip leaders will see new word count limits for magazine listings on the Online Trip Listing system submission forms starting February 15 for trips submitted for the May issue. A complete Q&A for trip leaders will be distributed through chapter chairs, published in the March AMC Outdoors, and posted to www.outdoors.org/volunteer/forms. Posted April, 2009.
We Did It!
The Conservation Committee reached it's goal raising money for the Main Woods Initiative.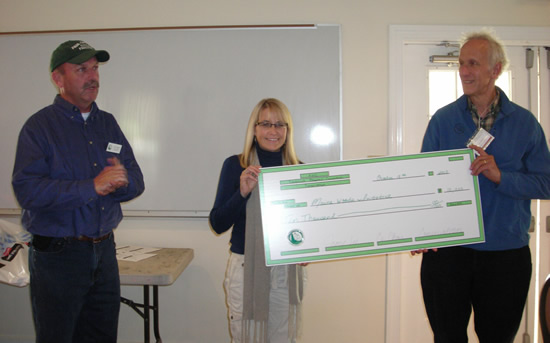 Jamie Lee presents our chapter's check for $10,000 to AMC Executive Director, Andy Falender at Fall Gathering in North East, Maryland, as Chapter Chair Leo Kelly explains it all. Posted October, 2008.